One page checkout is a module that can present all of the typical checkout elements on a single page. These elements are shipping options, delivery addresses, cart goods, payment information, etc.
It's one of the most well-liked extensions available on the PrestaShop add-ons market. It is also a crucial component of the module development services to speed up the business sales operations.
This plugin removes tiresome registration forms, interminable validations, or numerous purchasing methods. It helps your online visitors to buy your eCommerce products on a single page.
What is the need for this extension in online stores?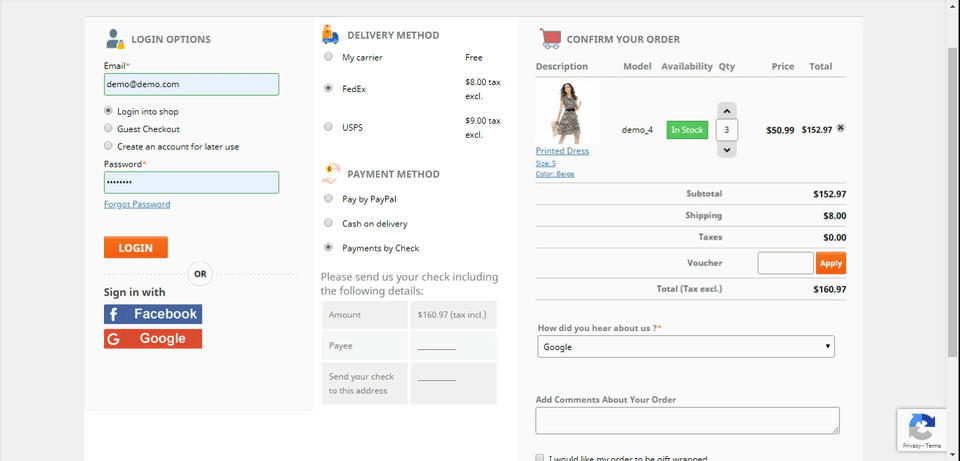 Every owner of an eCommerce company worries about the checkout process. The checkout process has a big impact on customer engagement, conversion rates, and product purchases.
Consumers abandon 67.75 percent of their online shopping carts for one or more reasons, as per Baymard Institute data.
Understanding the connection between cart abandonment and checkout abandonment is essential. The lengthy checkout process is to blame for the maximum number of abandoned carts. which also underlines the requirement for a quick and interesting one-page checkout process.
Online customers avoid wasting time on sites with multiple steps for making a certain purchase. To maximize user engagement and product sales in your eCommerce, one-page checkout processes are essential.
Advantages of this extension for websites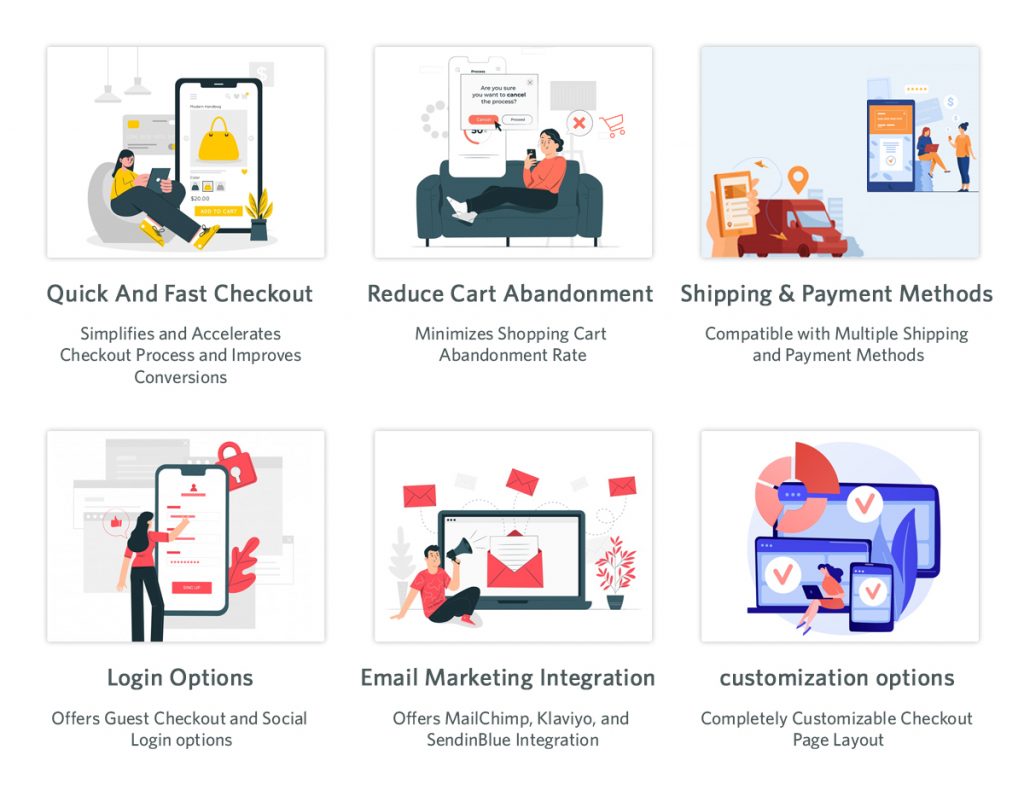 Lowers the number of the checkout process and keeps only those that are necessary for increased conversions:
Customers feel angry when the checkout process is lengthy, convoluted, and irrelevant. To maintain user interest in their purchases, this module limits the entire procedure to a single page. This plugin removes pointless checkout information.
A guest checkout option and social login with Facebook, Google is present. PayPal sign-in features, and layout customization of the checkout process are also some features. While altering the checkout page style following the needs of your business, you can also add a guest checkout option, social login, Google login, and PayPal login.
When the number of steps in your checkout process reduces, your Prestashop conversion rates and product sales will increase automatically.
Enhances the interaction rate and reduces shopper's confusion:
When customers fill out multiple pages to purchase a certain item, they feel confused. Due to this they frequently give up on the checkout process in the middle, thinking it would take more time.
Because of this, there are more abandoned carts in your PrestaShop store, which significantly lowers product sales. The PrestaShop one-page checkout plugin allows you to monitor sales activity and boost user engagement by monitoring abandoned carts.
Boosting the consumer experience increases product sales: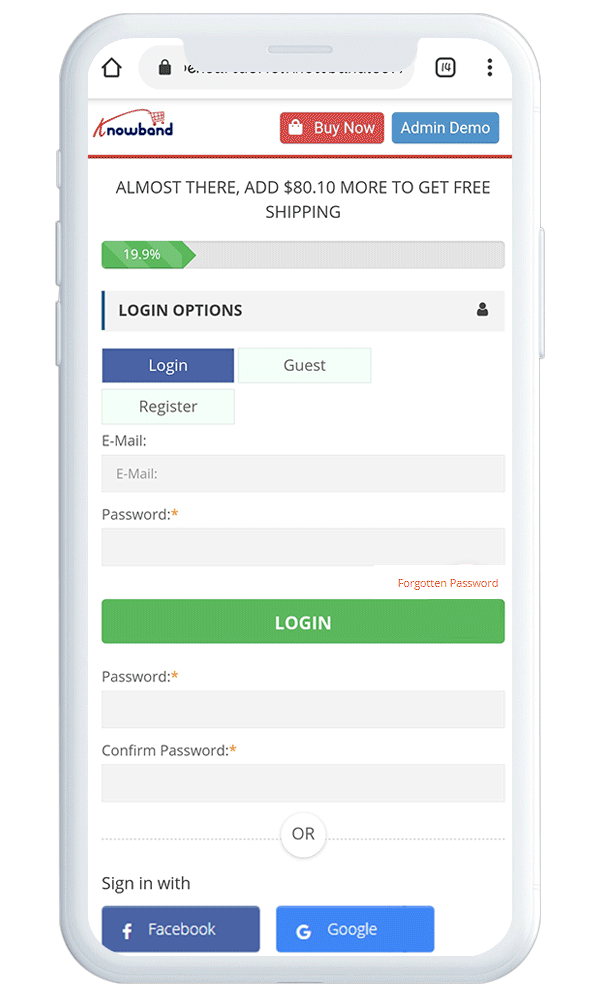 A customer is more likely to buy things if they can complete an order faster and in easier way. More product sales and customer contact are the results of faster checkout procedure. The one-page PrestaShop checkout module supports your efforts to simplify the purchasing procedure on your PrestaShop website. This module improves customer satisfaction and increases product sales.
Eliminates page reloading and encourages the customer to finish their transaction:
Customers are more likely to leave an online store if they frequently have to reload the page while checking out. Pages that reloads frequently during the shopping process and decrease user engagement, which lowers purchases. By consolidating all checkout-related procedures in one place, you can keep your customers interested while also considerably increasing product sales.
Take the initiative with a one-page PrestaShop checkout process instead of hindering your possibilities of business growth. You have a great opportunity to take advantage of a one-page checkout approach for an exciting eCommerce future.
Conclusion:
The one-page checkout module is your best option if you want a simple, quick, and quick checkout experience for your PrestaShop store.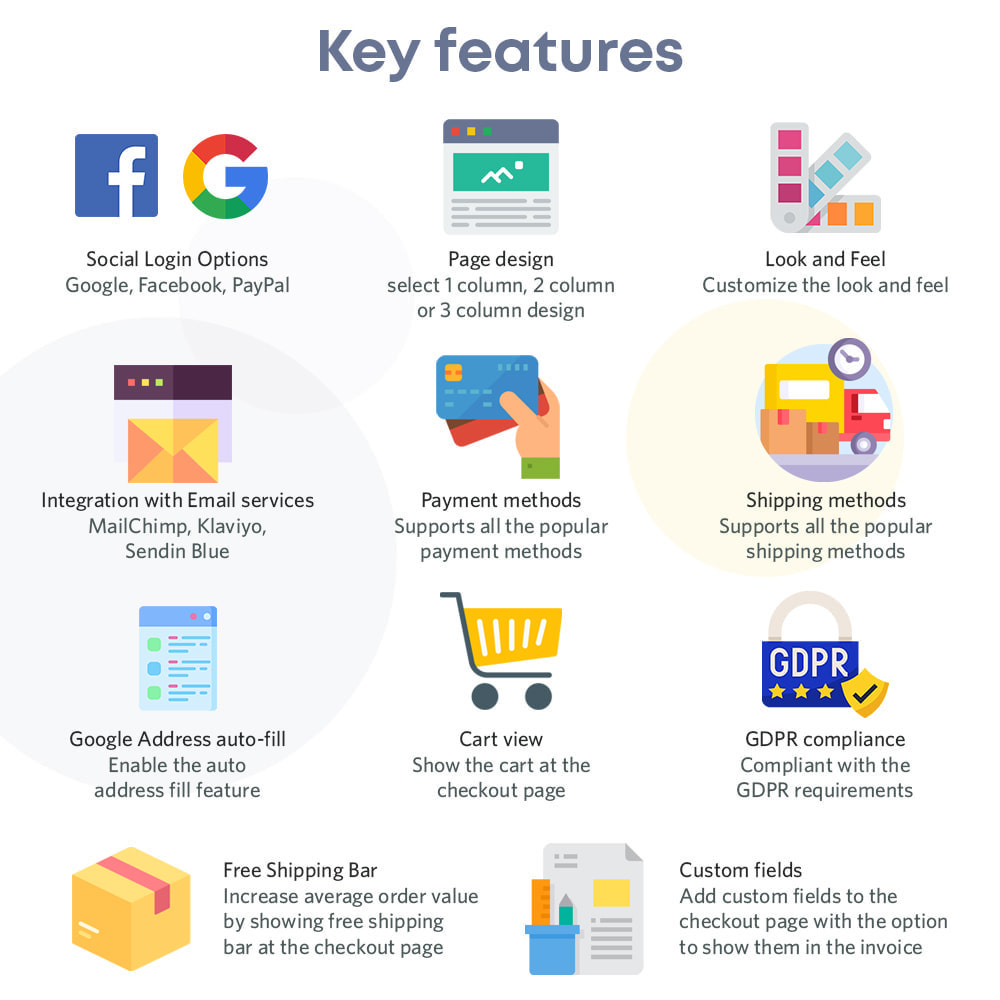 The features in this add-on will also speed up and simplify the checkout experience for your consumers. Don't worry either; installing the module is simple, as we already mentioned.
However, to ensure a smooth PrestaShop checkout process, connect with us at [email protected] if you are facing any difficulties or wish to modify this module as per your specific business goals.