Customers like Etsy Marketplaces better than its competitors because it has so many benefits for both buyers and sellers. But other online merchants prefer to manage their own online stores. In this post, we'll cover how eCommerce store owners may manage all of their Etsy orders and listings from the admin area of their WooCommerce shop and sell on the sizable Etsy marketplace directly from their WooCommerce store. Before we talk about the WooCommerce Etsy Integration Plugin, let's talk briefly about why eCommerce companies should sell on Etsy.
The marketplace on Etsy allows dealers to sell anything they want, which is a nice feature. Each product category has its own custom-made items. Etsy is a site that is specifically made for unique sellers since customers prefer to order their favorite product categories, such as handcrafted items, used goods, unique items like rare coins, etc., above other product categories.
If you are a specific type of merchant seeking a potential venue for selling, Etsy may be your best option.
You don't have to sell a brand name.
That you can start your business without a brand name is the best thing about selling on Etsy. New online shops that do not yet have a solid reputation in the sector may find selling on Etsy to be advantageous. Customers view Etsy as a brand unto itself because they relate the online market to valiant activities, which explains why.
Sell Anything:
Etsy enables online retailers to offer their products for sale to customers all around the world.
Multiple Shipping and Payment Methods: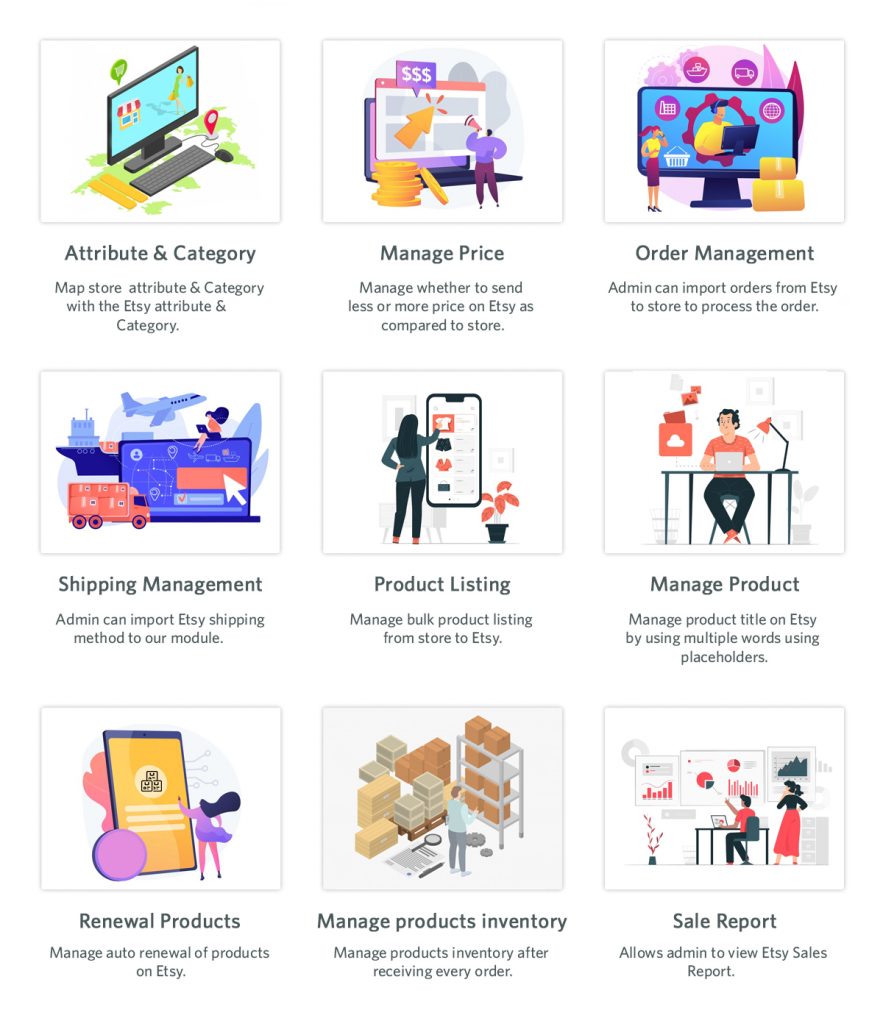 Thanks to shipping assistance and payment method support, online merchants can offer their products to any nation, regardless of currency or language.
For instance, if you have inventory in the US and wish to sell your products in countries outside the US, the well-maintained seller administration system of Etsy Marketplace can immediately alleviate any discomfort brought on by a language or currency barrier.
Linking to Etsy Using WooCommerce:
The Knowband IT staff, which has more than 12 years of experience creating WooCommerce plugins, developed the Knowband WooCommerce Etsy Marketplace Extension. Utilizing API technology, the Knowband WooCommerce Connector modules connect the Etsy Marketplace and the WooCommerce Platform.
Additionally, the WooCommerce Etsy Marketplace Connector extension enables online retailers to offer identical goods—even ones with the same stock and goods—on the Etsy Marketplace. Along with a variety of other options, WooCommerce store owners may manage orders from Etsy on the WooCommerce Shop back-end and update order statuses with ease.
Management of Etsy accounts on the website: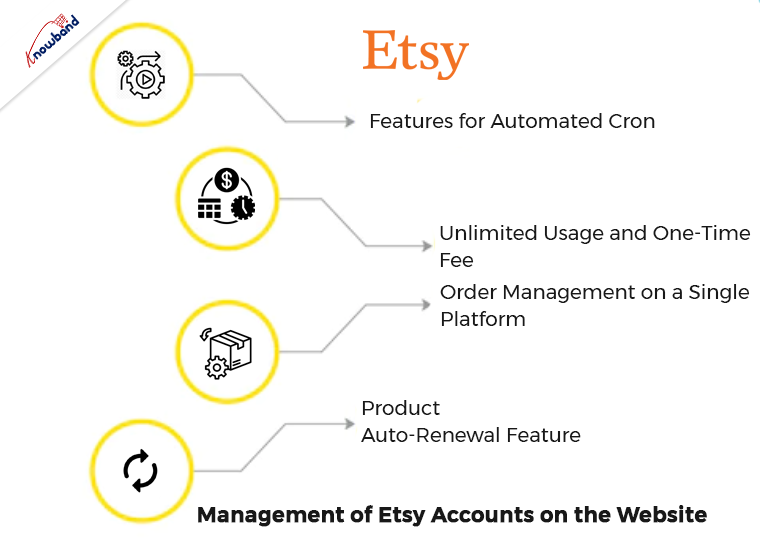 Multiple Etsy profiles can be created by store managers using the Knowband WooCommerce Etsy API Integration module, which is accessible through the WooCommerce admin panel. Additionally, administrators can establish profiles for every category that is offered in their eCommerce store by choosing from a variety of incredible features, including choosing currency, language, increased/decreased pricing, and much more.
The sellers can design various shipping templates for each profile they create to sell goods on the Etsy Marketplace.
The Knowband WooCommerce Etsy Integration Module's flagship pricing increment/decrement feature enables WooCommerce retailers to establish a different price for selling on the Etsy marketplace.
if you're an online retailer wishing to sell on the Etsy Marketplace but are only wary of the Etsy seller charge. For instance, you might charge more or less for the same goods on the Etsy Marketplace if you are selling them for 10 USD in your WooCommerce store in order to avoid paying the platform commission.
Automated Cron:
The pre-loaded cron jobs can handle all manual duties because they are filled with features for automated cron. The Knowband WooCommerce Etsy Integration extension gives WooCommerce businesses peace of mind by giving them access to a cron jobs tab that does all manual tasks automatically.
The Knowband WooCommerce Etsy Marketplace Extension's simple bulk product listing feature is one of the plugin's most useful features since it allows you to rapidly list all of the WooCommerce shop's products on the Etsy Marketplace. In a manner similar to this, the WooCommerce Etsy Integration Plugin does away with all the headaches of manual listing and uses automated cron jobs to do all the required bulk product listing.
Unlimited Usage and One-Time Fee:
The Knowband WooCommerce Etsy Connector plugin has an upfront fee and unlimited usage. Every month or every year, you do not have to renew your support period.
For the first three months, the Knowband technical staff handles every part of the WooCommerce online stores, from plugin installation to product listing on the Etsy Marketplace, in conjunction with the Knowband Etsy API Connector.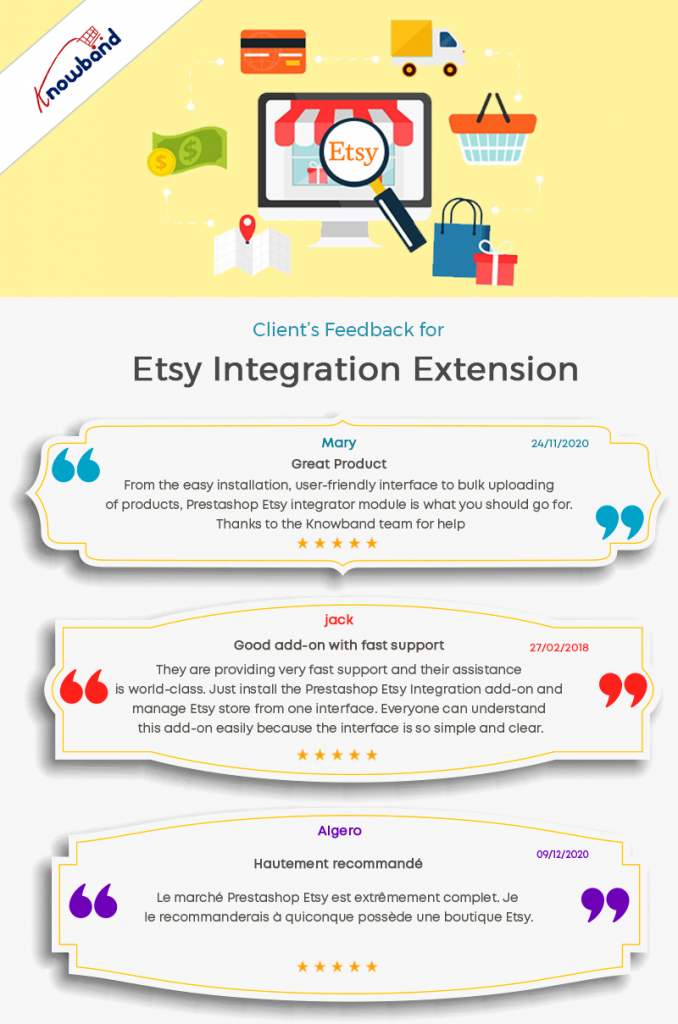 Order Management on a Single Platform:
With the WooCommerce Etsy Integration Addon, online store owners can manage all orders from WooCommerce and Etsy from the WooCommerce admin panel.
The button for synchronizing orders from the Etsy Marketplaces is easily accessible to administrators in the cron settings tab. With only one click of the Sync Orders button, all of the orders from the Etsy Marketplace will sync with the admin panel of the WooCommerce shop.
Product Auto-Renewal Feature:
A product auto-renewal feature is available through the OpenCart Etsy API connection. It can also be used by the administrator to have items that have reached their expiration date after a certain period of time automatically renewed. In the Etsy OpenCart API integration, this component is also accessible via the Profiles tab.
Installation process: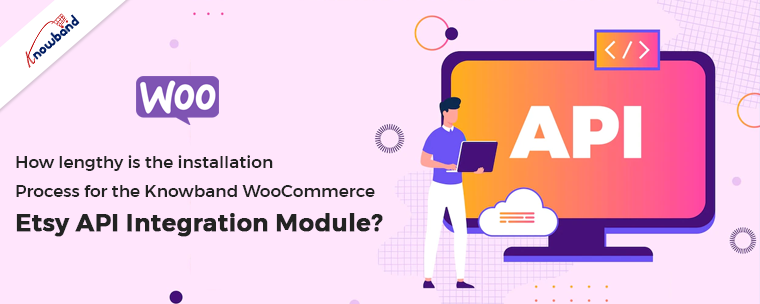 A similar straightforward setup process exists for the Knowband WooCommerce Etsy API connector extension. For the plugin to connect your WooCommerce store to Etsy, the following components are all that is required.
Private Client App:
Etsy Developer Account Client App ID Online merchants can add the following items to the module's general configuration section: Additionally, Knowband's technical support team will offer all the assistance required to access the Etsy API data if the administrator encounters any difficulties during the connection setup procedure.
Finally,
Selling through a single channel does not seem like a moral decision at this time when the eCommerce sector is flourishing like nothing else. A significant boost to your eCommerce business may also result from adding a major selling platform like Etsy to your list of selling channels. The Knowband WooCommerce Etsy Integration plugin offers a pre-configured choice for WooCommerce merchants that want to sell their products through multiple channels.
If you have any concerns about using a WooCommerce store to sell items on the Etsy Marketplace, please send us an email at [email protected]. Our amazing Etsy connector modules are available for PrestaShop, OpenCart, and Magento 2-compatible platforms in addition to WooCommerce platforms. One of the connection modules of choice for many business owners is our API Integration module. We provide a clever option in addition to the store integrator plugin to turn the little shop into a multi-seller marketplace.