PrestaShop One Page Checkout module display shows all components of a standard checkout. The standard checkout includes basket contents, billing and dispatching address, shipping options, and payment information on one page. Prestashop Fast Checkout addon came into practice to simplify the checkout process with lesser snaps and fewer pages.
Features of PrestaShop One Page Supercheckout:
PrestaShop One Step Checkout Addon comes with a simplified, straightforward layout.
PrestaShop One Page Supercheckout makes sure that all device users get equivalent benefits from the feature's responsive design.
PrestaShop One Page Supercheckout allows people to mention the info of Billing Address into the Shipping Address fields with a single click.
Advantages of a PrestaShop Responsive One Step Checkout addon
One-Page Checkout is all about Fewer clicks: E-commerce stores having a One-Page checkout require their clients to make fewer snaps compared to the clients looking at a store that has a multi-page checkout.
One-Page Checkout looks easier: Prestashop One Page Checkout addon looks easier to complete as fewer steps are required which is liked by time-conscious customers.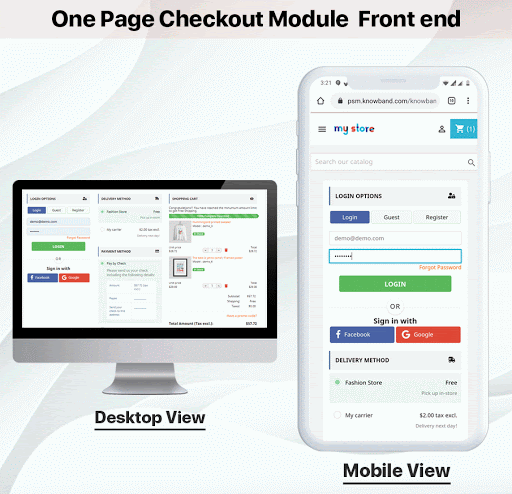 Does Prestashop One Page Checkout addon improve the business?
Offers transaction experience which is simple, fast, and convenient. One doesn't have to go through lengthy checkout processes in Prestashop One Page Checkout addon as it can be tedious, time-consuming, and confusing for consumers.
Increases conversion rate; Streamlining checkout rearranges the general cycle, bringing about higher volumes of clients finishing the cycle bringing about a lift in conversion rate, of up to 36%.
Prestashop One Page Checkout addon To Increase Conversion
Streamline your eCommerce checkout and improve the conversion rate by focusing on 3 main principals:
1. Emphasise On Speed
In the checkout process, there are two ways to consider speed within the checkout process. One includes your general site speed and page load times while the other identifies with the speed at which a client can effectively finish the checkout.
Whether you realize it or not your e-commerce store does gets affected by the site speed. Talking about the conversion rates, SEO, customer experiences, and sales, these are affected directly by site speed and page load times.
According to HubSpot:
1 second delay means a 7% reduction in conversions;
1 second delay in page load time means 11% loss of page views;
47% of customers expect a web page to load in 2 seconds or less;
Fast site speeds and page load times are a basic part of any eCommerce system and can profit your SEO. Slow speeds and load times hinder clients from visiting your site – not to mention checkout and buy your items.
The exact opposite thing you need is for clients to peruse your site, get to the checkout page, and afterward understand the checkout cycle takes excessively long. To try not to lose clients, upgrade your site's speed and page load times for desktop and mobile so that your clients feel satisfied.
2. Speed of completing the checkout successfully
Numerous sites neglect to use innovation to auto-fill areas that the client has just finished or based on data previously provided. For instance, if they have provided their zip code in a shipping estimator, then fill out their postal code in the delivery step.
Therefore, we highly recommend offering a seamless checkout experience like Prestashop Fast Checkout addon via auto-filling data, permitting visitor checkouts, and giving inline approval. In inline validation, you receive a pop-up notification that alerts the person and reminds him of his error when they fill in a field.
Furthermore, demonstrating a checkout progress bar assists clients in seeing the promising end to current circumstances and anticipate how much longer the checkout will take, causing the cycle to feel organized and less questionable.
3. Utilize Security Seals & Optimize CTAs
Build up consumer trust with viewable signals like credentials, trust seals, and identifications. For better security, we strongly suggest you verify your site with BuySafe, GeoTrust, or McAfee as they keep your business secure and safe. Providing clear links to your company's privacy policy, shipping policies, and FAQs within the one-page checkout screen is also mandatory.
Optimizing the language you use on invitations to take action inside the checkout can increase the trust level of customers visiting your website.
4. Utilizes product review system
According to a study by HubSpot, 78% of Internet users organize product research online. Before making a purchase decision, customers prefer taking assurance from peers, social groups, and previous buyers.
PrestaShop Quick Checkout addon builds confidence and offers peace of mind to most critical customers by employing a product review system on your website. PrestaShop Responsive One Step Checkout addon even pushes clients to provide product reviews and testimonials on their experience with your company.
5. Demonstrating Value becomes easy with One-page checkout
PrestaShop Responsive One Step Checkout addon increases customers' desire for your product by continue displaying the value.
6. Increase Perceived Value with the help of One-Page Checkout
Accomplish higher conversion rates by demonstrating to clients your remarkable incentive (UVP)during the checkout. Suppose your UVP is "Free Shipping." If you can't advance free delivery for each request, make certain to remind clients – on the PrestaShop One Page Supercheckout – the amount more they should spend to meet all requirements with the expectation of free shipping.
7. PrestaShop One Page Supercheckout provide great discounts and promotions
With the PrestaShop Responsive One Step Checkout addon, you can offer discounts and promotions. Coordinating the discounts inside the checkout is the place where clients truly see the worth. Give clients promotion codes inside the checkout. Once these promotion codes are utilized, naturally trigger informing that tells how much the client has saved money on a buy. Trigger urgency with informing that shows a period or lapse date. At the point when clients feel like they'll miss out on an arrangement by pausing, they're bound to finish the checkout instead of going somewhere else to look at costs.
In general, the checkout process has developed moderately minimal over a long time. Since the data that eCommerce sites need to finish a digital transaction continue as before, all checkout forms require similar data. PrestaShop Responsive One Step Checkout addon decreases shopping cart abandonment and increases conversion rate by creating such a strategy which involves improving speed, increasing trust, and promoting value.
To know more about PrestaShop One Page Checkout, click on the link below
One Page Checkout addon from official PrestaShop Addon store