Learn how a multi-vendor marketplace business can benefit your eCommerce idea indefinitely; don't put it off till 2023. Amazon, Etsy, and Alibaba are usually the first few names that come to mind when you think about online marketplaces. Surprisingly, one of the most common ambitions in the eCommerce industry today is success in the multi-vendor marketplace model.
In essence, the model is an online marketplace platform on which each seller can run their shop independently while the platform owner handles other components of an eCommerce store such as order processing, tracking, and payments.
According to recent studies and statistics, online marketplaces will outnumber standalone eCommerce stores roughly tenfold by 2023. The market is an effective and popular business strategy for start-ups aiming to cater to a global market, and the time isn't fair.
In addition, consider the following advantages of operating an online multi-vendor marketplace:
The Advantages of Developing a Multi-Vendor Business Platform
More items, and thus more customers, for your multi-vendor enterprise.
A multi-vendor eCommerce marketplace often attracts a diverse range of sellers that sell a variety of products. Customers benefit from the convenience of purchasing a variety of things under one roof.
This attracts a larger number of customers than if the marketplace only sold one type of good. At the same time, merchants are interested in the multi-vendor eCommerce marketplace model since it offers a simple online setup as well as a large pool of customers to sell to.
For both of these reasons, a marketplace model could be a profitable choice for an eCommerce company to consider.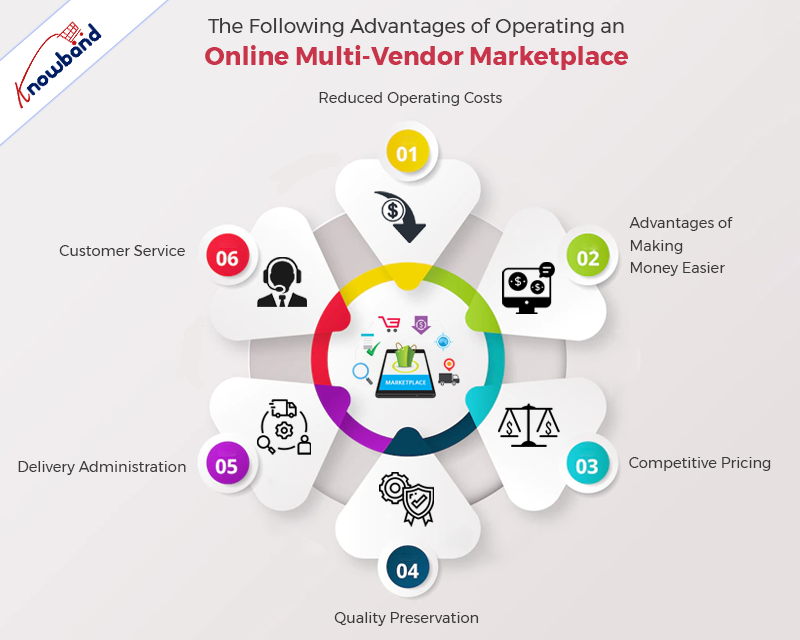 Get the advantages of not having to maintain a multi-vendor inventory.
An eCommerce startup is unlikely to be able to pay the costs of maintaining a fully stocked warehouse of sellable goods. However, in a multi-vendor marketplace, each vendor is responsible for keeping his or her inventory.
This relieves the startup of a significant financial burden, which is crucial in the early stages and allows them to focus on website improvements and building out their firm with concentration and efficiency.
Reduced Operating Costs
There is no need to invest time or money in designing products, keeping stocks, or managing logistics when launching a multi-vendor marketplace. All of these are the vendors' responsibilities inside the marketplace.
As a result, the marketplace can specialize in social media marketing, growing operations to serve worldwide clients and website upkeep. This also implies they will work with a smaller crew, which will reduce costs even further.
When it comes to constructing virtual storefronts, the marketplace can easily do so with the help of any major multi-vendor eCommerce marketplace software supplier, such as Webnexs. The corporation can assist in quickly developing a feature-rich, responsive internet marketplace.
Advantages of Making Money Easier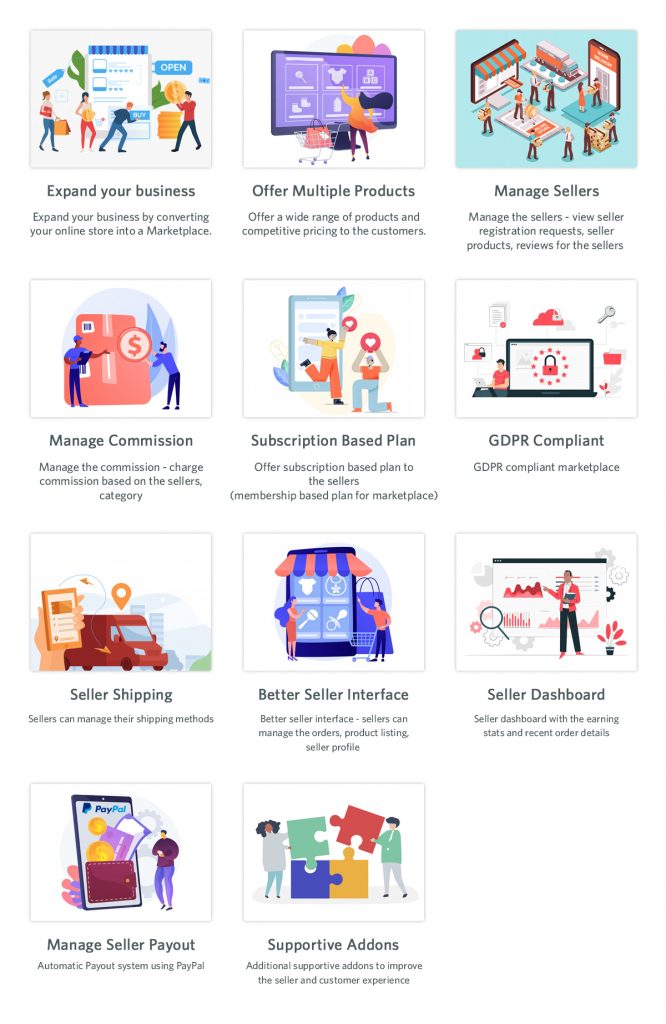 Because of the wide range of products and customers, marketplaces can make significant sales much faster than if they focused solely on one type of good. They get a commission on each sale made by each vendor, the percentage of which they choose.
The more vendors there are, the more sales there are, and thus the larger the commission income for the marketplace.
Competitive Pricing
While having multiple vendors ensures that buyers have a variety of options, it also results in a significant price war because there are multiple replacements for each commodity. This might spark a fierce pricing war among providers as they compete for larger market shares. As a result, the commission earned by the marketplace from sellers on each sale made on the platform decreases.
Quality Preservation
Because different vendors provide products of differing quality levels, the marketplace owner is unable to perform a top-quality check on every product due to a large number of merchants. If there are too many sellers providing misleading products, the marketplace's reputation among loyal customers may suffer.
However, the issue is frequently solved to some extent by having a customer scoring system for each seller and deleting dealers whose ratings fall below a certain threshold. Amazon includes such an option, where you may check the rating of the item and its seller immediately on the product page.
Delivery Administration
While vendors are responsible for the quality of their items, the marketplace must nevertheless keep an eye out for deliveries. This necessitates excellent logistics to carry products safely and on time. Managing logistics is frequently a time-consuming and costly task if the marketplace caters to numerous states or countries.
A dynamic digital storefront that allows the marketplace owner to track all deliveries from all sellers under one roof generally solves the problem.
Customer Service
Customer complaints are something to keep an eye on. Complaints are typically shared with the marketplace rather than the individual vendor. As a result, the marketplace is responsible for investigating the issues and keeping track of any refunds, returns, or replacements that may be required.
That is a difficult and time-consuming operation that necessitates the use of a separate customer service staff. Furthermore, because complaints may be available 24 hours a day, the marketplace must spend even more resources to promptly answer all complaints. This, however, can be handled with the help of a marketplace solution provider.
In the End
This is how an online multi-vendor marketplace helps any eCommerce firm expand by having a significant impact on business growth.
To get the firm off to a good start, a multi-vendor eCommerce platform requires great technology and a small investment. That is also one of the reasons why many entrepreneurs are waiting for the proper signal to enter the market.