Analyzing product reviews is probably the most efficient way to assuage buyers' concerns about a product. The great majority of customers allow product reviews to influence their purchasing decisions. Whether your eCommerce shop is a well-established one or a new one, product reviews are crucial for its reputation. Credibility is a key element in determining the long-term success of your brand.
Retailers routinely disregard the value of product reviews. Even if the checkout page and the website design are still given a lot of consideration, none of that matters if your products aren't getting good reviews. The usefulness of product reviews is demonstrated by the fact that 90% of consumers read online reviews before making a purchase and 88% of them will be inspired to take action after doing so.
Product reviews: What are they?
Product reviews provide feedback from customers regarding a certain product. Online retailers commonly include a review option on their websites so that customers may rate and comment on the products they've purchased.
Before making a purchase, potential customers can thoroughly comprehend a product thanks to product reviews. By reading the reviews, they may assess the product's worth on their own and make an educated choice.
If you haven't included a product review function to your eCommerce website only because you're worried about negative reviews, you're missing out on a tonne of potential customers.
Significance of Product Reviews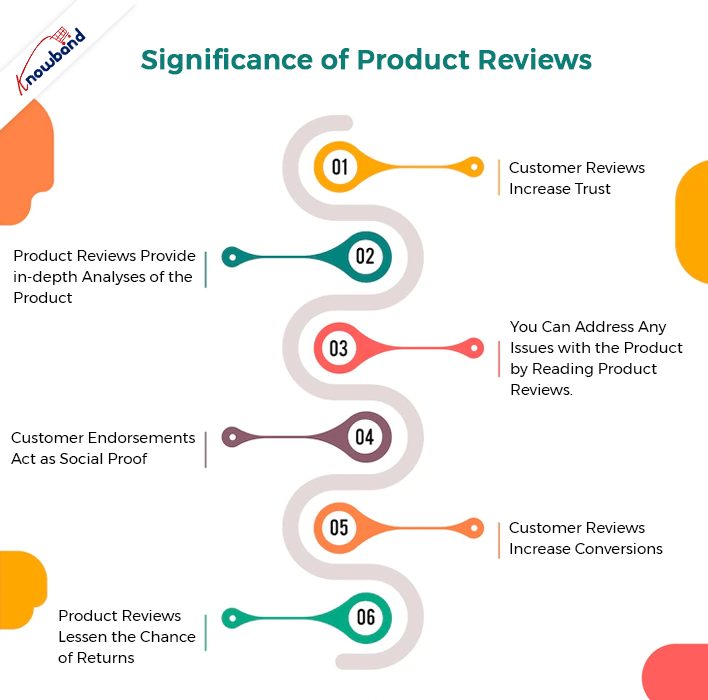 In this article, I've identified six reasons why product reviews are essential to your online company. Let's examine it.
1. Customer Reviews Increase trust
When a user enters your website intending to make a purchase, reviews are the first thing they search for. A product that has received favorable reviews will surely help the customer make a purchase. They would likely trust both your brand and your products.
The average customer rating for a product is displayed by Amazon right at the top of the product page, and the customer reviews are displayed at the bottom. A prospective buyer is immediately presented with the product ratings and the total number of ratings for that product when they visit the product page.
2. Product Reviews Provide In-Depth Analyses of the Product
By hearing from people about their earlier purchasing experiences, prospects can ascertain whether the product has already exceeded customer expectations.
Consumers will eventually provide the most truthful reviews, although marketers will surely strive to highlight each aspect of the product in the best possible way.
When a consumer provides feedback on a product, he helps other customers understand what to expect from the item, how it is working, what are its drawbacks, what are its benefits, and much more.
3. You Can Address Any Issues with the Product by Reading Product Reviews
It is your job to correct the issue so that the situation is resolved if numerous customers are criticizing the same product flaw. There is a possibility that the buyer will receive faulty or damaged goods, however, this only occurs to a small percentage of customers.
4. Customer Endorsements Act as Social Proof.
One of their key benefits is that they might work wonders for your brand. As you may have seen, brands typically highlight what customers are saying about their products or services. These are what we mean by testimonials, and they greatly affect a potential customer's purchasing choice.
On the home page of your website and your social media pages, showcase consumer testimonials. It is one of the most effective strategies for promoting your brand because it might bring a lot of potential clients to your website and leave them with a positive first impression.
5. Customer Reviews Increase Conversions
Product reviews will be crucial to your conversion rates if you are reaching your customers' expectations. People would openly promote you by leaving positive evaluations. A single favorable review can also increase conversion rates.
Yes, there will also be a small number of negative reviews, but as long as they are infrequent, you shouldn't worry too much. There is no such thing as a totally satisfied customer. More individuals will be inspired to buy a product if it is of excellent quality and users have given it favorable reviews.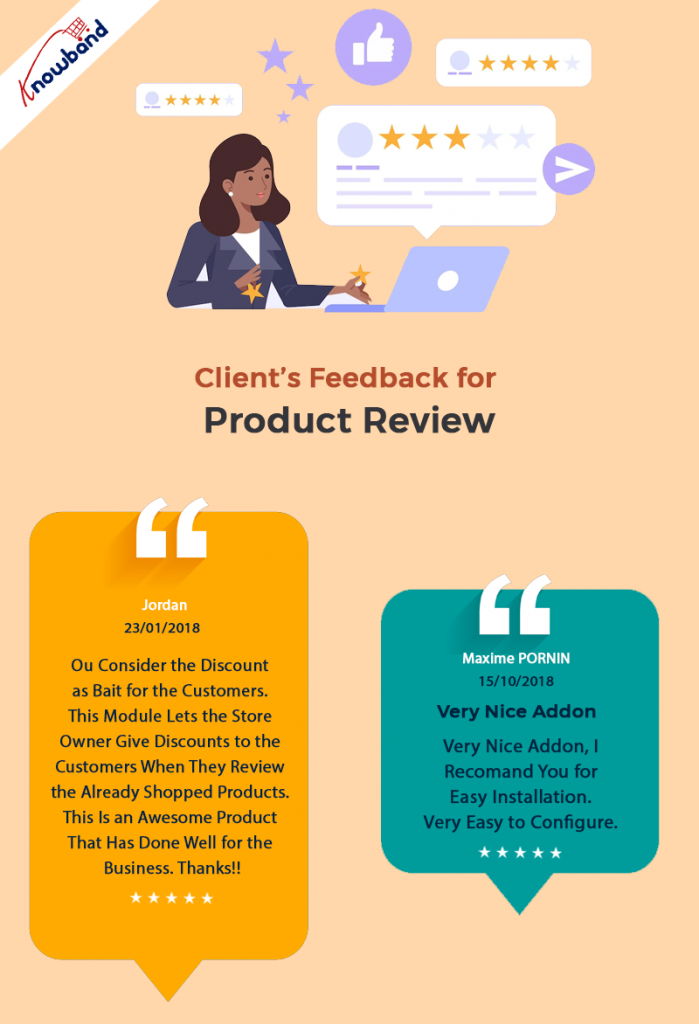 6. Product Reviews Lessen the Chance of Returns
If you don't list customer reviews, how would online shoppers assess the caliber of your offerings? They wouldn't feel secure enough to buy anything. They will also question the product's quality.
This is something to think about. You sell a product, but you don't solicit customer opinions. Users can only hope that the product isn't determined to be defective or of poor quality at this point. Customers will be forced to make a return request even if it is highly likely they will receive a genuine item.
Final Words:
The consumer is superior. They can either dramatically improve or significantly impair your company's success. Their input is essential because only their experiences will be able to tell how good your product is.
Unfavorable reviews are also appropriate. You can judge whether these people's true opinions are accurate. Additionally, it suggests that you are receptive to whatever the consumer has to say. The importance of product reviews considerably increases because there is now no technology that allows users to evaluate things online.
With the Review Reminder and Incentives tool, you can offer your clients rewards for each favorable review submitted. Along with other information like the prize's value and the deadline for delivery, the review reminder emails can be personalized. The posting of each review requires prior approval. You must first provide your consent before the recipient can receive the gifts. It sounds exciting, for sure.

PrestaShop, OpenCart, and Magento 2 are e-commerce platforms that support the Product Review Reminder and Incentives module. If you have anything to contribute to this article, don't hesitate to comment below. If you need help, you can also send an email to [email protected].