You have most probably already heard about Prestashop One Page Checkout and want to know more about it. Moreover, maybe you are a little like me and you have heard a lot about it and want to know why is it so popular?
What makes it so attractive is that it has almost become a norm to have Prestashop One Page Checkout over the traditional Multi-Step Checkout.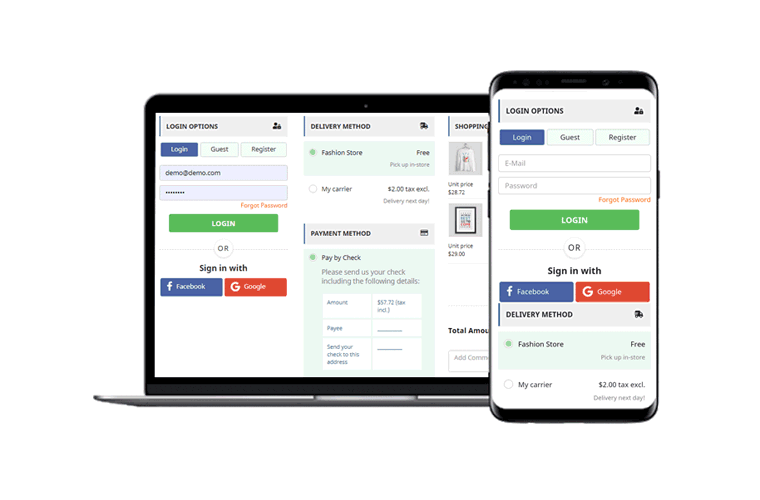 We dug into the analytics and found that:
Yes, Prestashop Single Page checkout does improve the conversion rate. A customer is less likely to leave the cart when he can complete the checkout in less time and with fewer clicking/taps. A study shows that the Quick checkout addon Prestashop improves the conversion rate by at least 20% on desktops and even more so on mobiles.
Be it online or retail, the users are the center of all efforts and customer satisfaction is the core of a brand. A Prestashop simplified checkout addon is providing ease of time and effort on the customer's end during the checkout. Which increases overall customer satisfaction and makes buyers most likely to return.
Features to combat abandoned carts. Prestashop One Page Checkout Extension also has built-in features to capture and follow up on abandoned carts which further improves the conversion.
The fast checkout extension Prestashop is also providing guest checkout, social logins, custom fields with validation, and many more features that are often overlooked.
Which is better for you? One Page Super checkout or Multi-Step Checkout?
Even though multiple A/B testing has proved Prestashop One Page Checkout to be superior. You can also do A/B testing on your store to see your personalized results.
You must try the demo as well to see how seamlessly it works.
If that is too much hassle, you can directly opt for a Prestashop quick checkout addon. You can trust thousands of merchants like yourself who have benefited from it already.
Things to check before purchasing any Prestashop One Page checkout module:
It should be mobile-friendly as the mobile share in e-Commerce is growing exponentially.
Make sure it is compatible with your store version.
Check the support provided by the developer in case of any trouble.
Make sure it is GDPR-friendly.
Check if the module you are purchasing supports your payment and shipping methods.
Make sure it is multi-lingual.
It must also be highly customizable and should offer custom fields and field validation for a seamless checkout.
It should also be integrated with MailChimp, SendinBlue, and Klaviyo as well.
An ideal Prestashop One Page Checkout should also offer detailed analytics about how many fields customers are filling. Also, it should show which fields lead to a customer leaving the cart.
Our recommendation:
We have found that one of the best Prestashop One Page checkouts is provided by Knowband with proven customer ratings and feedback. As Knowband is providing professional support as well, it is no brainer which module you should choose.
Know more: