In all honesty, advertising platforms like Google and Facebook and marketing companies are the biggest money-makers, despite what we retailers may claim about our holiday planning. As merchants, we test every advertising strategy known to man, including Google Adwords, Facebook ads, emails, Instagram ads, Reddit ads, SEO, content marketing, re-marketing, and cart recovery programs. Long before you've explored every option, you'll become worn out.
Gift cards are a potent marketing tool in and of themselves; they aren't just another commodity. By the time you're done reading this post, you'll be able to use gift cards to boost conversions. You just need to know how to use them.
Consumers Enjoy Gift Cards

The public wants gift cards. During the Christmas season, consumers are especially interested in gift cards. You are missing out on a major demand and a huge opportunity if you don't provide gift cards in your eCommerce store.
Present your gift cards on-site as the perfect present—one that is personalized and is sure to be loved by the recipient. After all, if you give your loved one a certain thing, s/he will know you thought about it, even though s/he might not always enjoy the gift.
If the giver selects a generic gift card (think Amazon), the recipient is likely to receive a gift they are delighted with, but they might wish you had put more thought into the gift selection process.
Gift certificates from certain retailers cover all the bases. Although they are narrowly targeted and specialized, they also provide the receiver with the option to select a gift that suits them. Customizing the e-card or announcement that is delivered with the gift card frequently helps to make it feel more intimate.
Gift Cards as Remarkable Moments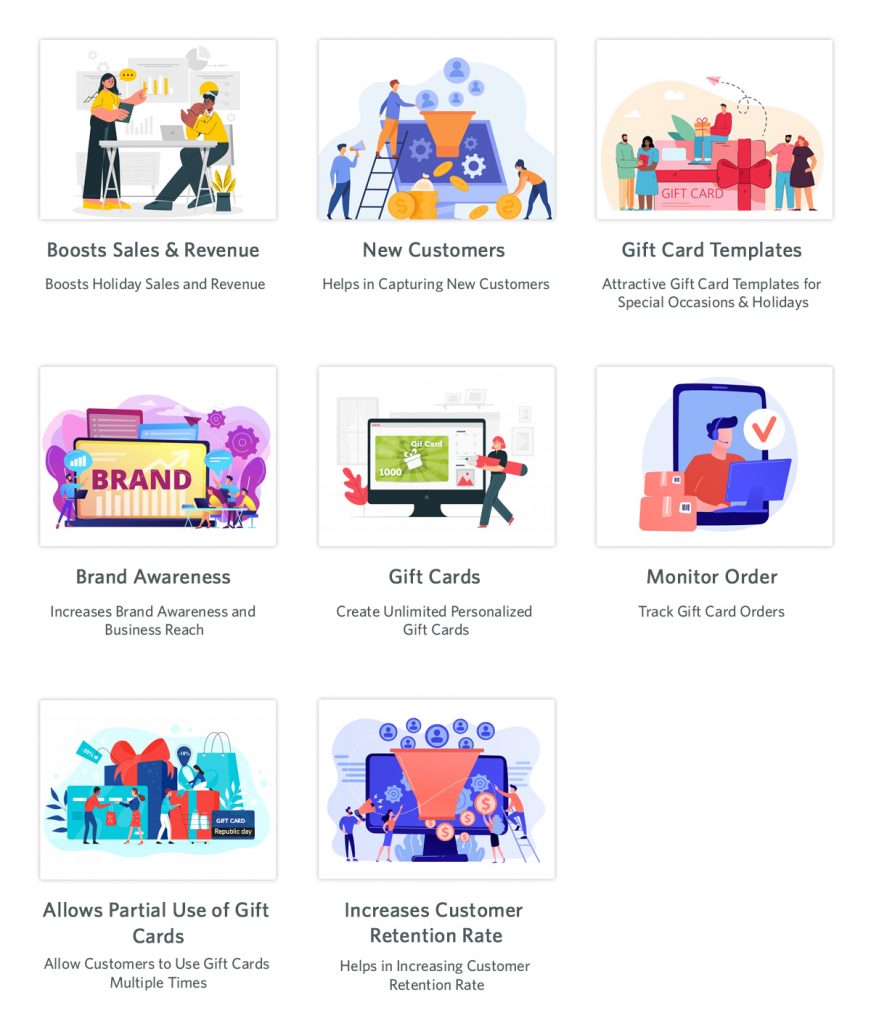 When the recipient of your customer's gift receives something that is so socially shareable, she will want to tell others about it. We discover that experiencing delight with others spreads that enjoyment more, and we naturally feel moved to include others in our happiness when it is very good.
Increase Your Customer Base Using Gift Cards
Your client recently gave your gift card to the person who was getting the gift to introduce you to them. It's time to get to know one another now.
Giving a gift card that has "free money" on it already makes the recipient feel good about your business; now, capitalize on that feeling by giving them a nice shopping experience.
If the consumer had a great experience, they are likely to become repeat customers.
Increase Brand Awareness with Gift Cards
A branded gift card, as we just discussed, serves as a valuable introduction to a new potential consumer as well as a product that you sell. They might not have known your store even existed, but they do now. Today, they do. They might think to look for you the next time they need anything you sell.
As data collection tools, gift cards

Gift cards can provide highly significant marketing information. You can learn a lot about a person's connection with them and about important life events by asking them why they give each other presents. If you efficiently collect and store such data, you can later use it to execute smart marketing to either side.
That is one-on-one marketing, but you can also utilize the data to learn about the characteristics and product preferences of new audiences (recipients of gift cards), and then use that information to create marketing audiences and execute ads on websites like Facebook and Adwords.
Gift Cards as Buy-Incentive Tools
Present-givers will jump at the opportunity to provide a greater gift than they could have afforded at a price they can now afford, businesses will prefer to buy discounted cards for their staff, and your consumers may even buy cards for themselves so they can get more bang for their buck.
Utilizing Gift Cards as Loyalty Rewards

A win-win-win outcome results from rewarding your clients for their loyalty. They benefit because they get a reward, and you benefit because they are now more loyal to you, They may tell other people about their experience, which could give you free publicity.
Sending inexpensive vouchers to consumers who exhibit a particular purchasing pattern is a fantastic loyalty incentive that frequently encourages additional purchases. Don't inform your customers in advance that you have this policy if you want to maximize the impact of these benefits.
A powerful marketing tool, gift cards are more than just a product
Gift cards have powerful marketing potential that can both, directly and indirectly, grow your clientele and revenue. Givers attract fresh customers to your online store. Personalization can give your customers satisfying experiences that they want to repeat and tell their friends about. Surprisingly inexpensive voucher cards can either reawaken dormant customers or increase customer loyalty and word-of-mouth advertising among loyal repeat customers. Marketing campaigns that target certain audiences might benefit from important data.
Go ahead and use the gift card's plugin by Knowband to boost both the traffic and revenue of your store. To know further about the Vouchers importance in the eCommerce business, feel free to reach out to us at [email protected]